Wow, what an amazing response to the very first A Little Bit Crafty challenge. I know Paula and the rest of the DT were overwhelmed with the number of entries!!!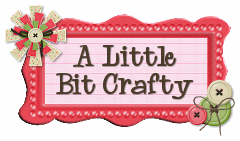 This month the challenge is Kraft. The sponsors are amazing!!!!


I'm going for a bit of Alice in Wonderland action on this one- Tweedledee and dum are Stampotique (betcha could've guessed that right? OK, so I'm obsessed......)
Quote from the twosome themselves.
The fab
Sarah Hurley
backing papers fit in great with the Scrabble tiles. I've overstamped with Stampotique splodges and a little paperclip stamp I've had forever.
Dum and Dee are coloured with watercolour pencils. I always seem to reach for my pencils nowadays- can't remember the last time I use a Promarker- I should wipe the dust off the box and put them to use again.
So, you've got a month to come up with a Krafty creation, then come over to the challenge blog and show us!