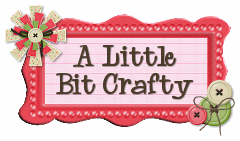 There's a new challenge at A Little Bit Crafty- my DT piece is ready to be shown! It's a bit of a different take to the rest of the DT, but, then when have I ever been the same as everyone else, lol!
I've used a fab clock from one of our sponsors for the month- It's about time from Smeared Ink, which I think fits perfectly with the gorgeous Lovely are the sound batboy from Stampotique, the little skulls on the clock face are kinda cute. The challenge this month is to use dies, so I've put some cogs onto my ink sprayed background.
Fancy having a go? The sponsors this month are Smeared ink, Saturated Canary and Cheery Lynn. Worth getting those dies out?
This piece is also my entry for the
Stampotique Designers Challenge
, which is new adventures. This is the first time I've done something "arty" with a digi stamp- I masked it and spray inked round it, then cut out the centre section from another print and layered it on. I've not been a digi fan really, but this time it really, really worked! That's my new adventure!
I'm also entering it into the
Haunted Design House
unlucky for some challenge- my 13 elements are..... 1.Black backing card, 2.Sprayed background 3,4,5,6.Cogs 7.Clock digi 8,9,10,11 ticks and tocks 12.Batboy stamp 13.Bookpage that batboy is stamped onto