Hello! Today I've got a midway reminder post for the A Little Bit Crafty challenge blog.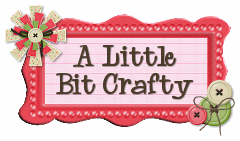 This month's challenge is Summer Sun. Well, as you never quite know when summer sun is going to turn into summer storms, I went for an ATC with summer flowers and wellies....
The welly is from a smashing Stampin' Up set with lots of boot stamps.
Righto, get those summer inspired projects blogged and enter the challenge, the prizes are fab, as usual!