Wow, these months are knocking along quickly........
Time for a new challenge at A Little Bit Crafty.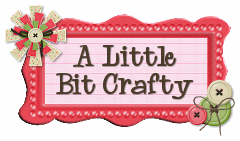 This month we'd like you to show us your shabby creations. I'm not sure I've cracked the shabby style- although this certainly isn't neat and tidy, lol.
It's another little notebook for my craft fair- I used the fab little ghost stamp from one of our sponsors this month- the fabulous Octopode Factory. I've got him in rubber, but he's available, along with oodles of Lily's other wonderful creations in the
Octopode etsy shop
.
So, if you do shabby much better than me (not difficult.....), get on over to the challenge blog and show us your stuff!